Visiting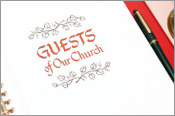 Are you thinking about being our guests for the first time? Great! We would love to host you and welcome you into our community. We are easy to find in the heart of North Canton. We are just a block west of the old Hoover Plant (the intersection of Main and Maple).
If you are not familiar with our campus the best point of entry is through the main front doors on West Maple Street. From this entrance, it is easy to access the sanctuary and other important rooms.
Our worship schedule is listed below. If you have any questions, please contact our church office at 330-499-4606.
Sunday School/Coffee and Fellowship (9:00am - 10:15am)
Sunday Worship Service (10:30am)